Buyer's Guide for a First Time Boat Purchase
Our retirement dream boat is a beautiful 54′ long luxury cruiser yacht with all the bells and whistles. Powerful enough to plow through the roughest waters as we head towards the Caribbean for a few weeks.  But before I can get ahead of myself with such a lavish purchase, I decided to keep things simple and more attainable for my first-time buying a boat.
In the beginning, I had a ton of different questions and not a lot of answers. I have put together a list of those questions, along with the information I found, in hopes that it'll also help you as you might be asking yourself these same questions. Let's get started.
What Type of Boat Makes Sense For Me Right Now?
This question, of course, is the most critical question to ask yourself. If you haven't already started to look into the different types of boats you could buy, then you don't know how many different types there are. To help simplify things you should consider one of the following categories that best relates to you.
Cruising Boats
Fishing Boats
Water Sports Boats
What Will You Be Doing With Your Boat?
Will you be taking the family out on the weekends to enjoy the sunshine and company? Or will you be taking the boys out for a fishing trip every other weekend?
If you're feeling adventurous and you are planning to learn how to either water ski, pull the kids around in a tube, or if you're brave enough to try parasailing, then you should consider a water sports boat such as a wakeboard/ski boat. They both look similar, but they are very different in their fields of functionality.
If it's fishing that you want to do, then you don't need a lot of the bells and whistles, so in this case, I would suggest a fishing boat such as a bass boat which would be perfect because of its slim profile and consists of 2-3 anglers that are intended for fishing. A center console boat is another great option since it's primarily used for sports fishing.
Houseboats, just like in the name is like having a home on the water. They provide great recreational accommodations, with the luxury and sense of living on the water.
If you're looking for a way to get the kids away from their electronics and spend some family time driving around the water, then you might want to consider a cruising boat, such as a bowrider or a deck boat. Deck boats have a nice open deck area which provides plenty of seating for a group of people, including the extra room in the front V section of the vessel.
Try The Boats Out First in Person
Before you commit to buying anything, you should first take a trip to some local boat dealers nearby and see which ones feel right for you and your family.
Sit in the captions seat and see how the steering wheel and throttle feel in your hands.
Test out the various other seats on board as well to see how they would feel for your passengers.
If you are buying this boat for the whole family to enjoy, then don't forget to bring them along with you so you can see how much room everyone has. Remember, you'll be trapped out on this thing together, so you want to make sure there's enough room for everyone to sit comfortably.
Take a look at the storage spaces onboard and make sure it'll be enough room to stow away your belongings that you will need on your trip.
Remember, the bigger the boat, the more it's going to cost. So before you buy a large boat, it's a good idea to see if a smaller boat would be just as good for you.
Buy a New Boat From a Reputable Dealer
When you are buying a new boat, you need to think about it as if you are buying a new car. You wouldn't go and buy a new car from someone you meet on Craigs List. First of all, where did they get this "new" car from in the first place? Second of all, once you drive a car off the dealership lot, it's no longer considered a "new" car anymore. You should have the same mentality when you're looking to buy your new boat.
Remember the salesman is not going to be your friend, he works for a company and aims to bring in as much of a commission as he can from every sale. Don't accept the first offer they present to you, because that price will probably be the MSRP (Manufacturer's Suggested Retail Price)… The keyword here is Suggested! There's always some wiggle room in the sticker price.
Just like buying a new car, it's a good idea to take a look at last year's inventory or try buying at the end of a season to help maximize your chances of saving some extra money. And don't forget to check Google and see what other customers are saying about this dealership before you buy anything. Read through the good and the bad reviews to see why those customers gave them the review that they did.
Here are a few other things you should know when negotiating the price of your new boat.
Are they going to include a trailer in the deal? If they don't, then try to get the cost of the trailer reduced.
Are they willing to give you a full walkthrough, and also go over and explain what all of the buttons do?
Can you get them to throw anything else into the deal, like free life jackets?
Will they offer to finance?

Can you afford this extra monthly expense?
Do you want to be paying for something 12 months of the year when you only get to enjoy this for 3-5 months, depending on where you live of course?
Be Careful When Buying a Used Boat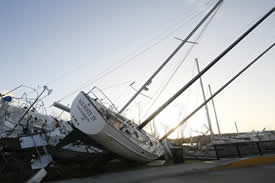 Being that this is probably your first boat purchase, buying a used boat might make more sense to you, both financially and mentally. It can be a little scary for the first time boat owner, out on the water for the first time, and coming back to dock your boat, only to realize much too late that you're coming in way too fast. You could either damage the front end or scuff it up depending on how you hit. When you are out in a used boat, you don't have that extra stress you would if it was a brand new boat you just bought. But don't get me wrong, it's never fun even when you damage a used boat either, since you've invested a lot of money into it, and now you might have to shell out more money to fix it.
Buying a used boat could help save you a few thousand dollars. Boats are made out of aluminum and fiberglass these days, so they don't rot like traditional wooden boats do, which help them retain their value.
How was the boat stored during the winter or when it was not in use?
Was there ever any damage to the body that was repaired?
Who did they get the boat from? And what is the history there?
Have there been any problems with the engine or electrics?
Before you buy a used a boat it's always a good idea to inspect it from top to bottom. Make sure there are no patches in the fiberglass that look damaged, or could potentially become a leak in the future. If you can, have the owner take you out on the water and give you a test ride to see how things handle and feel. Also, keep your ears open to how it sounds, and make sure you can't hear anything rattling or vibrating.
Most importantly, if your gut is telling you that there must be something wrong, "this deal sounds too good to be true!" then chances are, your gut could be right. Don't be afraid to walk away without making a deal, there is plenty of fish in the sea, but in this case, boats.
Before You Pull The Trigger And Buy
In this day in age there are reviews on pretty much everything you can buy, so before making any purchase it's always a good idea to spend at least 30 to 60 minutes researching what other boat owners are saying about the boat you are looking to buy.
Are people having a problem with the motor or the electronics on board not functioning correctly?
Is it hard to handle when driving fast or through waves?
Is the storage compartments too small or hard to get into while out on the water?
Have they had any problems with leaks?
Are there strange vibrations that get worse as you go faster?
Buy at The End of The Season       
Most people tend to wait until the end of the season, to begin looking for a new boat, such as September and October. That is when the demand for a boat goes down, and the dealerships are more likely to negotiate a better price so that they can make way for next year's inventory.
If you can't wait until the end of the season, because you must have your boat now, then it's a good idea to see what older model boats the dealership still has left over from previous years.
Boats Can Hold Some Value Depending on How You Treat Them
Like cars, boats lose some value the minute you take them off the lot. But surprisingly enough, even older model boats if cared for correctly, and stored correctly during the winter, can still hold some monetary value when or if you decide to sell it.
Consider storing your boat on a trailer in your driveway under a covered tarp. If you can, store a boat on its trailer in your garage, that is a better option.
Storing your boat in a dry temperature controlled environment is the ideal way to store it.
Smaller boats are able to be stored on racks.
Make sure you keep up the routine maintenance on your boat.
Make Sure Your Vehicle Can Tow What You Buy
Ideally, it would be nice to have a large pickup truck or SUV to haul around your boat from place to place, but just because you don't have a truck it doesn't mean you can't buy and tow a boat. Smaller cars might be able to get away with hauling a small aluminum fishing boat, with a properly mounted hitch and lighting plug. Before you buy any boat, you should check your vehicles owner manual to see what the towing capacity is.
Even if you are sure that your vehicle is capable of hauling the boat and trailer you have hooked up, it's a good idea to keep a close eye on your gauges during that first trip to make sure everything looks good, and you're not putting too much strain on your vehicle.
Now, if you have to own a large boat and your vehicle is not compatible to tow it, then you do have some alternative ways to haul it around.
You could ask a friend or family member with a larger vehicle if they can tow it for you.
Perhaps you could hire someone, or rent a vehicle.
Another option is storing the boat at a marina tied to the dock.

There is a monthly fee for this.
Some marinas are seasonal, and you would have to move and store the boat during the off-season.
Make Sure You do Routine Maintenance on Your Boat
Just like a car, truck or anything else with an engine, it's a good idea to do routine maintenance and make sure it's in tip-top shape. The last thing you want to find out while you're in the middle of a lake or an ocean is that you burnt out the engine from not changing the oil. Not only would it be scary being trapped at sea, but it would not be cheap to replace the engine when you do end up getting back to land.
Here are some things you'll want to maintain on your boat:
Change the oil.
Check the propeller and make sure it's not cracked, dented, damaged. A damaged propeller is dangerous, and it can also reduce your boats performance and speed.
Remove the propeller and make sure it doesn't have anything wrapped around it such as fishing line. While you have the propeller off, use grease on the shaft before putting the propeller back on.
Keep your boat clean. If you tend to go in saltwater with your boat, then you'll want to wash it and scrub it down when it's back on land sitting up on the trailer.
Wipe down and clean the interior. Protect the seat vinyl upholstery with a product such as 303 Aerospace Protectant. It'll help protect the seats against UV from the sun, as well as prevent fading and cracking of the vinyl.
Backing a Trailer For The First Time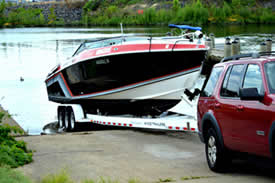 If you've never reversed a trailer before, then you're going to want to first practice in a wide open space first where there is nothing for you to hit. It's not rocket science when it comes to backing a trailer up, but it sure does take a little practice, patience and of course, some skill wouldn't hurt.
Start by setting up some rocks or pylons to act as the space you want to try backing the trailer into. What I have found to work for me while backing up is this – start with your hand on the bottom of the steering wheel, and then whichever direction you want the trailer to go, then that's the way you move your hand. Try to turn the wheel gradually and not too fast; you don't want the trailer to veer off in the direction too fast or else you will jackknife trailer and have to pull far enough ahead to try it again.
Keep in mind that loading docks could get busy depending on where you are, what time of the day it is, and of course what day it is. Holiday's or long weekends on a beautiful clear day, will most certainly see a lot of use on its docks. You don't want to be messing around too much trying to back your trailer down for the first time with everyone watching you, and making it more stressful.
Most Importantly, Safety First!
I know it should go without saying, but it's still imperative to say it anyways… Be careful and cautious of others out on the water.
Always wear a life jacket, and make sure the life jacket is fitted correctly, and done up. If you have small kids, make sure they are wearing a life jacket meant for children and not for an adult. Children can slide out of a life jacket that's too big, or not done up correctly.
If boating at night, or when the sun is starting to set, always use your lights on the boat and stay extra alert.
Just like on land, you should never drink and drive.
Keep an emergency aid kit on board.
Don't stand up when the boat is in motion.
Keep both hands firmly on the wheel. When you hit a wave, your boat could be bumped one way or the other, and force the propellers to make a sharp turn.
Remove the key and store it in your pocket when the boat is docked.
Keep a flare gun locked away in one of your storage spaces.
Have a float plan in case you or one of your passengers go overboard.
The propellers are very dangerous, so don't ride over anyone. 'I know, I know, I just had to say it.'
Extra Random Tips For First-time Boat Owners
The sun is extremely hot, so keep that in mind when you go to sit on your seats that's have been sitting in the hot sun all day.
Make sure your fishing rods are secure when you're not using them, and flying around on the water.
While your trailer is stored, you should always make sure the latch is locked down, so thieves don't try to make off with it.
When you hook up the trailer to your vehicle, you should do a light/blinker test to make sure everything is working correctly.
Recommended