This post is a beginners guide to buying your first boat. When I first started to dig deep into the research and figure out what the best types of boats for beginners were, I had no idea that there were so many different types of boats to choose from.
There are so many different choices that I was both excited and nerves at the same time, trying to make sure that I make the right decision.
I put together a list of questions that I had when I first began my search, and I want to share with you the list of questions and answers that I found to be helpful. I hope this information helps you as much as it helped me.
What Type of Boat Should I Buy?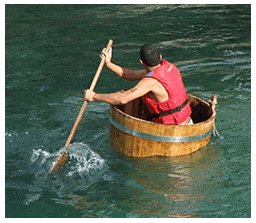 Trying to figure out which type of boat is the right boat for you to buy, really all depends on what you plan on doing with your boat. For me, I wanted a boat that would allow me to take my family out on a lake to relax, and go fishing on the occasional weekend.
After doing a lot of research on the different types of boats out there, I figured out what my needs were, and I narrowed my search down to these six types of boats:
Bowrider boat
Cruiser boat
Dual Console boat
Pontoon boat
Runabout boat
Walkarounds boat
With so many great choices to choose from, I wanted to take my time and make sure that I got it right, and that is the biggest piece of advice I can offer you as well.
Before you begin your search you need to ask yourself a few questions and be honest when you answer them.
Am I looking for a big boat or a small boat?
Do I want a boat that I can haul behind my vehicle to different watering holes?
Will I be entertaining friends or family on the boat?
Can I afford to buy this boat and keep up with the maintenance on it?
What type of maintenance would this boat require every year?
Do I need something that will have a lot of extra storage space onboard?
Will I be towing the kids around in this boat?
Do I need a cabin below deck so the kids can take a nap or we can spend the night on the boat?
Once you've answered these questions to yourself honestly, take a good look at what each type of boat has to offer and see if that boat will fill your needs.
What Types of Boats Are There?
There are several different types of boats which makes it difficult to list them all. It's much easier to list them into three main categories, such as;
Man-powered boats (pedal boats, kayaks, rafts, paddle boats, canoes, gondolas, etc.)
Sailboats (boats that rely on wind power to move)
Motorboats (boats that run on an engine)
Different Types of Boats and Their Uses
Bass Boat
Just like in the name, bass boats are primarily used for bass fishing or other types of sports fishing. Bass boats are typically used in freshwaters such as lakes, rivers, and streams. Two ways usually propel bass boats; the first way is by an outboard motor which can move the boat quickly from place to place, and the second way is from a trolling motor that helps guide the vessel slowly where the angler is fishing.
Bay or flats Boat
These type of boats are favorable for fisherman since the boat has many features they look for, such as rod racks, fish boxes, rod holders and livewells. Most also come with fore and aft casting decks, which elevate your position while fishing. Bay boats usually range between 18 to 24 feet in length.
Bowrider Boat
The bowrider is an excellent choice for families who want to get together and enjoy cruising around the open waters. These boats can fit 8 or more passengers in the main "cockpit" area as well as in the front V section also known as the "bow cockpit."
Catamaran Boats
Catamarans range in size from small (personal vessel) to very large (naval ships or car ferries). There are two types of catamarans to choose from, a powered catamaran or a sailing style catamaran. They feature two parallel hulls of equal size and are excellent for fishing or leisurely trips.
Center Console Boats
As the name would suggest, a center console boat is a type of single decked, open hull boat with the console being in the center of the ship. This center console option makes it easier for people to walk all around the ship from the stern to the bow with ease. Some center console boats even have a cabin located in the bow of the ship which could hold small berths for sleeping.
Cruiser – or Cabin Cruiser Boats
Cabin cruisers are perfect for those who want to cruise around all day on the water with all of the amenities you can find at home. These are also great for people who want to spend a couple of days out at sea, as they come with a kitchen, bathroom, and sleeping quarters. They also have both air conditioning and heating for those hot days, and cold nights. Typically cruisers range between 25′ to 45′.
Cuddy Cabin
Cuddy cabin boats are great for those who want a boat that is versatile regarding the type of usage. For example, they are great for anyone who is looking to fish, sail, water sports and of course yachting.
Deck Boat
A deck boat is like a bowrider, but instead of a V-shape front seating area, it's more rounded and can seat a few more people. The width of the deck boat is also a little bigger than the bowrider as well.
Dinghy
This type of boat is much smaller and customarily towed or carried on larger vessels as a lifeboat or tender.
Downeast Cruiser
This type of boat can seat six to eight people with a large cockpit. These boats were used mainly by lobster and commercial fisherman. They contain a lower living section on board for those long days at sea.
Dual Console
Dual console boats are an excellent choice for anyone who's looking to do some water sports such as, waterskiing, or wakeboarding. But they are also an excellent choice for those who want to do some fishing.
High-Performance Boat
These are the boats that get you from point A to point B, FAST. The high-performance boat was designed for the boater who has a real need for speed and wants to look good while doing it. High-performance boats are often used in races.
Houseboat
Houseboats are just like an apartment on the water, and some even come with more amenities then you would find in an apartment on land. Some of the amenities they feature are: Hot tub and fireplace, shower, sink, toilet, propane BBQ, beds, T.V.s, and the list could go on. These are great boats if you want to get the family together and enjoy several nights out on the water. There are lots of people who call these boats their home on the water.
Inflatable Boat
Inflatable boats can either be used to tow behind larger vessels for some fun on the water or rigged with an outboard engine, steering wheel and seats to patrol around the water.
Jet Boat
Jet boats are great for going fast and still gives you a sense of control, and can be used in much shallower water because of the inboard design. You'll typically see these boats being used by tour companies who offer jet boating experiences along a river. They are great for towing behind skiers or wakeboarders.
Jon Boat
A Jon boat is a flat-bottomed boat made out of either aluminum, wood or fiberglass. Depending on the length of Jon boat, they would typically have one, two or three bench seats. They range in size between 8 to 24 feet long, and 32 to 60 inches wide. These boats are great for fishing or hunter. An outboard motor could even get mounted to the rear.
Pilothouse Boat
These are great cruising, fishing, and diving boats. The design and layout allow the crew to be able to remain safe within the boat but with visibility to see what's going outside.
Pontoon Boat
Similar to the catamaran, pontoon boats are designed to accommodate many people, with its flat top and multiple seating wrapping around the boat. Pontoon boats are great for leisure or fishing, with plenty of storage space on board. They are typically cheaper to insure than other types of boats. The length of a pontoon boat range from 15 to 30 feet. The larger you go, the more seating you get.
PWC (Personal Watercraft)
Personal watercraft are otherwise known as a jet ski or water scooter. There are two styles, such as a sit-down or a stand-up. The sit-down style can generally seat two or three people, while the stand-up style is meant for a solo rider.
Rigid-hulled Inflatable (RHIB) or Rigid-Inflatable boat (RIB)
These are lightweight, high-performance, and solidly constructed vessels. They are built for the sea and designed to maintain its buoyancy. These boats are popular among trades that operate on the water, as well as military craft who use them to transport troops between vessels and shore.
Runabout
A runabout boat is a name for any small motorboat that holds between four and eight people. Some of the traditional runabout boats would be the bow rider, cuddy boat, center console boat, and the walkaround boat. Runabout boats could be used as a ship's tender for larger vessels.
Ski and Wakeboard Boat
These boats are typically any inboard board with the engine being in the back, and V-shaped front end hull, because these boats will create a large, specially shaped wake, for the skiers or wakeboarders to jump the waves from side to side.
Skiff Boat
A skiff boat is a style of small boat used for leisure, such as fishing, and they have room for either one person or a minimal crew.
Utility Boat
These boats get built tough, and are great for fishing or just getting from one spot to another. They don't have a lot of space, but they are great for taking a friend or two with you on the water. You can get utility boats with either bench seating or build in chairs. There's usually only three benches or 2 chairs.
Walkarounds
This boat is a cross between a center console boat and a cuddy boat or express, and like those two types of boats, the walkaround boat is also an excellent choice for fishing.
Kayak
A kayak is a small, narrow boat with one or more cockpits, where each cockpit seats one paddler. Kayaks get propelled by a double-bladed paddle that each passenger would use. Kayaks are designed to flip back side up if they tip over.
Gondola
Gondolas have a flat bottom and traditionally used on the Venetian lagoons in Venice. It is propelled by a gondolier utilizing a rowing oar.
Canoe
A canoe is a long lightweight, narrow boat with bench seating that fit multiple people at once. The boat is typically pointed at both ends, so it doesn't matter which way you are facing to row forward. You can find canoes with one end pointed and the other end flat. A single-bladed paddle propels canoes.
How Much Should I Spend on My First Boat?
Deciding how much to spend on my first boat was the toughest question that I kept asking myself. When I first started to look into the different types of boats, there were I didn't even have a clue at how much a boat would cost. Now that I've narrowed down my search on what type of boat I wanted to buy, it was time to price these boats out. I knew I didn't want to spend a lot of money on my first boat so I looked around and gathered the prices I could find online. I was surprised to learn exactly how expensive boats were to buy brand new. The prices ranged from $18,000+ (Express Fishing boat) to $250,000+ (Cabin Cruiser).
So after learning what a brand new boat was going to cost me, I decided to buy a used boat as my first boat to stay on the side of caution. After all, I had never owned a boat before, and I wanted to make sure this was something that my family and I would enjoy doing together throughout the summer months. The prices for a used boat ranged from $3,000+ (older model Express Fishing boat) to $35,000+ (much older models of Cabin Cruiser).
When is The Best Time to Purchase a New Boat?
A lot of people tend to wait until the end of the season, like September or October to begin shopping around for a new boat. A lot of dealerships might be more likely to give you a better deal because waiting until the end of the season makes sense, that's when the demand for a boat tends to slow way, way down.
Does a Trailer Come With My New Boat Purchase?
Trailers normally get sold separately. You can try to negotiate a better price on the trailer when buying a new boat or see if they will throw one in with the deal. You might also find package deals offered by the dealership which would include the trailer with the boat.
Recommended