Why I Love The Newport Vessels 55 Pound Trolling Motor
I don't have a lot of experience with trolling motors, but hands down the Newport Vessels 55 Pound Thrust 8 Speed Electric Trolling Motor has been without a doubt one of the best purchases I have made so far.
The Newport Vessels 55Ib thrust electric trolling motor is practically in a league of its own. Designed and constructed with only the highest quality materials. The adjustable 30-inch shaft length helps make this trolling motor very versatile to fit all Newport Vessels inflatable boats as well as all other types of inflatable boats, kayaks, dinghies, tenders, fishing boats, aluminum fishing boats, and most fixed transom smaller boats. With an 8-speed control system (5 forward speeds and 3 reverse speeds), the 55Ib thrust trolling motor also comes equipped with a 3-blade propeller (10 inches in diameter) which allows for a smooth and quiet ride. This trolling motor runs with any 12-volt Deep Cycle battery or Marine battery (battery not included).

Features:
55Ib Thrust
Ultra-quiet, cool and efficient
Adjustable 30-inch shaft length
Saltwater Resistant
8 speeds (5 forward & 3 reverse)
5 point LED battery meter
3 blade large propeller
DC 12V
Lightweight & portable
Fits almost all small boats & kayaks
The weight of the motor is 22 Ibs
Specifications:
Brand: Newport Vessels
Model: 23M1000203
Type: Transom-Mount Motors
Assembled Product Weight: 25 pounds
Manufacturer Part Number: 23M1000203
Voltage: 12-Volt
Maximum Amp Draw: 52 Amps
Maximum Vessel Size: 12-16ft
Maximum Speed on 7.5ft Boat: 4mph
Warranty: 2 Year Limited Warranty
Setup, Unboxing, and What is Included?
The Newport Vessels 55Ib thrust electric trolling motor is incredibly lightweight right out of the box. This will be your first impression from it, as so many other reviewers have also said the same thing. You will also receive a 3-blade propeller kit in the box that is incredibly easy to install if you follow the included instructions, as well as a 50 amp circuit breaker which is also found in the propeller box.
Setting everything up out of the box is a snap, and easy to do. Even installing this motor on your boat is incredibly simple to do, and something you can do by yourself without any help.
What you will not receive with the NV 55Ib is a battery. You will need to supply a 12V Deep Cycle or Marine Battery and charger. It is recommended that the battery has at least 50 Amp Hour Rating.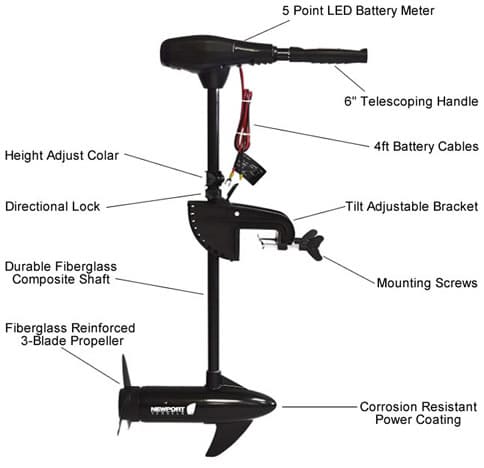 Performance and Battery "Usage"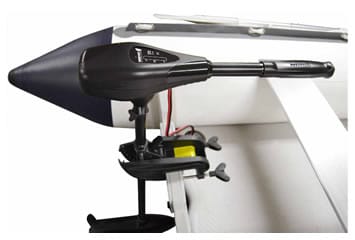 For a 55Ib outboard motor, the NV 55Ib is one of the quietest trolling motors I've ever used. My brother-in-law claims to have owned over a dozen different trolling motors over the years, and he said my NV 55Ib is one of the best he's ever used as well. Another neat feature is the built-in LED meter that will give you a precise battery life reading. The NV 55Ib Trolling Motor is constructed with Zinc, aluminum, and stainless steel components allowing for dependable performance in saltwater making it more versatile than any other trolling motor in its class.
During use, the 50 amp circuit breaker will automatically shut off your motor, if the motor/propeller becomes tangled or stuck due to weeds, small stones, fishing line or so forth.
The NV 55Ib does not come with a battery, so you will have to supply a 12V battery yourself. The recommended type of battery is a deep cycle battery or marine battery since they will last much longer and they are designed for this application.
Depending on the size of boat you are using, and how fast your speed is, really plays a big part in how long your battery will last. For example, I'm using a deep cycle battery on my NV 55Ib and generally stick between the second and third speed setting, and I can get a good 4.5 hours out of mine.
First Time Running
For the first time running the NV 55Ib you should follow these steps:
Set the NV 55Ib onto the back of your vessel sitting in the 

Stowaway 

position.
Begin to loosely tighten the transom Mounting Screws until they start to grip the Transom Mount.
Press the Tilt Lever and slowly introduce the motor to the water.
To adjust the height of the motor, use the Depth Adjuster Collar (The recommended running depth is between 150mm to 300mm (6in to 12in) below the waterline).
Once you are satisfied that the motor is at a safe depth and it is not in danger of hitting underwater objects, or close to the bottom of the lake, river or other waterways, you can now proceed to tighten the Transom Mounting Screws.
Make sure the twist grip is in a neutral position. Now it should be safe to connect the battery to the motor. Ensure the nuts are tight on the terminals to prevent a poor connection.
Use the twist grip on the tiller arm to select your desired speed and direction.
* Do not go from top speed forward, to top speed reverse without first allowing the propellers to stop turning first to avoid motor damage.
Price/Where to Buy
You can find the Newport Vessels 55-pound Thrust 8 Speed Electric Trolling Motor on Amazon for way cheaper than I would have guessed. When I purchased mine from Amazon, it didn't come with an additional option to add on a protection plan, but it does come with a two-year warranty from the manufacturer.
Maintenance
As with all trolling motors, there are specific maintenance requirements that you should perform after each use to help keep the motor running properly. Below is a list of the manufacturers recommended maintenance tasks before and after each use:
Look behind the propeller and around the shaft for fishing line, weeds, or other types of debris that could get wrapped behind the propeller.
Using only a non-aerosol lubricant, make sure to lubricate all of the pivot points. Using an aerosol lubricant could cause damage to various parts of the electric motor.
Visually check and ensure that the main battery cables are in good condition, and not showing any cuts, tears, or any other type of damage.
After every use thoroughly rinse the electric outboard motor with fresh water, especially after salt water exposure. Only rinse the bottom half that's been in the water, and avoid rinsing the top cover area to avoid damaging the circuitry inside.
Inspect and ensure that all nuts, bolts, and screws are tightly in place.
After each use recharge the battery following the battery manufacturers recommendations for battery maintenance.
Never connect the wires to the wrong battery terminal. During any maintenance, make sure to disconnect the battery before beginning.
Compared to Other Brands
As far as thrust goes, the Newport Vessels 55 Pound Thrust Trolling Motor is closely compared to other similar competitors models such as the Minn Kota Traxxis 55Ib and the MotorGuide R3 55Ib. On top of offering some great additional features, another thing that sets the NV 55Ib trolling motor ahead of the competition is that it is saltwater resistant, something that the Traxxis 55Ib and R3 55Ib are not.
The Newport Vessels 55Ib was designed and constructed using Zinc, aluminum, and stainless steel components which allows this motor to perform flawlessly in saltwater. The 5-point LED meter built into the motor head will give you a precise measurement of the remaining battery life. The Minn Kota Traxxis 55Ib has a push to test button that will provide you with reading, while the MotorGuide R3 55Ib doesn't come with any battery life indicator.
As of the time of this writing, the Newport Vessels 55Ib thrust trolling motor offers all of the key features you would want in a trolling motor, at the lowest price of just $199.00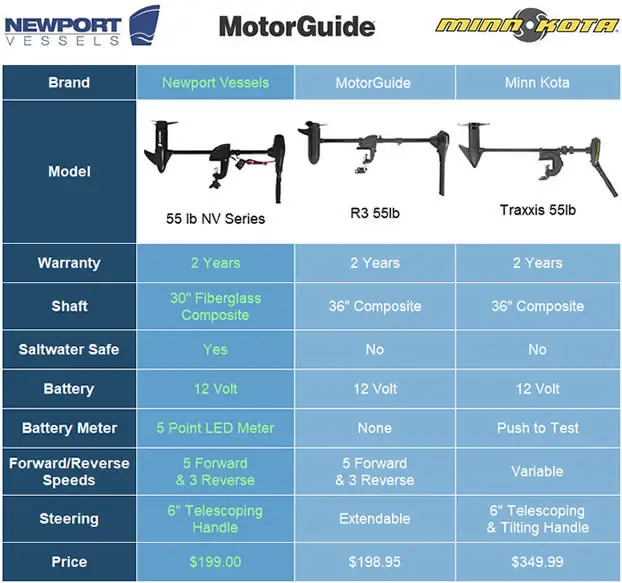 Pros and Cons
Lastly, let's go over the pros and cons for the Newport Vessels 55 Pound Thrust 8 Speed Electric Trolling Motor.
Pros include:
It is powerful
Reasonably priced for what you are getting
The motor is lightweight and easy to install by yourself
The motor performs very well
Multiple speed selection
A great feature having a battery life indicator built-in
The motor runs very quietly in the first few speed settings
Cons Include:
In direct sunlight, the LED battery life indicator can be tough to see
In Conclusion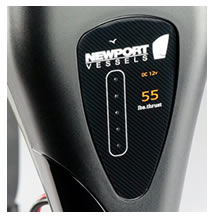 The Newport Vessels 55 Pound Thrust 8 Speed Electric Trolling Motor is a great little motor that proves you can have your cake (excellent performance) and eat it too (you'll fall in love with this product).
Priced at just under $200 and weighing only 25 pounds assembled, you will be able to set this up on your own easily, and transport it to and from your boat with ease. Because the NV 55Ib is constructed to be used in saltwater, you don't have to worry about corrosion and other serious problems that most trolling motor owners face.
It's hard to find a trolling motor that is perfect, but the NV 55ib is right up there as far as performance and durability go. Whether you want to troll around on the water or spend the day fishing, this little motor delivers. I personally recommend the NV 55Ib for your boat.
Happy boating!
You might also be interested in our article Trolling Fishing – A Complete Guide For Beginners.