WEN PW31 3100 PSI: My Favorite Pressure Washer for Boats
If you own a boat, then you know one of the most tedious tasks that you have to perform after every boating adventure, and that is to give the hull a good cleaning.  That is why I strongly recommend the WEN PW31 3100 PSI Gas Pressure Washer, 208 cc. It's one of those tools that every boater needs to thoroughly give their boat that deep clean it needs, quickly and painlessly.
This little unit packs a whopping 3100 PSI, so you know it means business. Most pressure washers designed for residential use typically have a PSI range from 2000 to 2900, making this 3100 PSI stand out in a league of its own. And let me be honest, it's also a lot of fun to use while making sure every knock and cranny gets washed.
The WEN PW31 3100 PSI is powered by a 208 CC OHV 4-stroke engine with a single-cylinder design with forced air cooling.
In this review I am going to go over everything in-depth about why I love the WEN PW31 3100 PSI, and why you will too when you are done reading this.
Product Features:
First, we should take a look at the most notable features and specs the WEN PW31 3100 PSI has to offer. I'll also touch more on these features and specs later throughout this review.
Packing a very powerful 208 cc 4-stroke OHV engine
Blasts 2.5 gallons of water per minute
It comes with five quick-connect nozzles to conquer light, medium or heavy-duty cleaning, with onboard storage making it quick easy to switch the nozzles as needed
The axial cam pump provides a reliable spray while maximizing the lifespan of the unit
Equipped with an onboard soap tank
Nice, large 12-inch wheels
Cord-free operation
This unit comes with an area to wrap your hose for safe and secure storage
What Can it Wash?
The better question, should be, what can't this bad boy wash? As mentioned, the WEN PW31 3100 PSI comes with five different quick-connect spray nozzles to tackle all sorts of various projects. This power washer is the ideal choice for all types of vehicles, such as cars, SUV's, ATV's, Boats, RV's, as well as Home siding and brickwork, Driveways, Decks and so on.
Each quick-connect nozzle is designed to conquer specific tasks with a blast radius ranging from (0º, 15º, 25º, 40º and soap).
0º – is used to get at high and hard to reach areas; cleans crevices in sidewalks or on driveways
15º – is used to tackle stubborn stains on hard surfaces such as concrete, and brick
25º – This tip is used on painted surfaces, fences, wooden siding, boat hulls, lawn mowers, and boat propellers
40º – Use this tip on windows and screens
Soap – Used when you want to spray soaps and detergents

Size, Weight, and Portability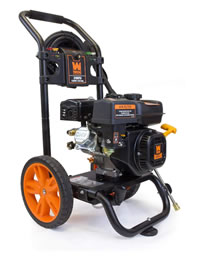 For a pressure washer, that's this well build, the WEN PW31 3100 PSI  comes in weighing 67 pounds. The size of the product itself is only 21 x 21 x 40 inches, making it easy to store or transport in the back of a truck or the trunk of a car.
If you've ever owned a pressure washer before, then you know how frustrating it can be when your hose gets kinked due to improper storage. With onboard storage space for your pressurized hose, you can store and protect the 30-foot high-pressure hose.
Because the WEN PW31 3100 PSI is a gas pressured washer, you don't have the restrictions of a corded pressure washer, allowing you the freedom to move around with ease.
The nice big 12 inch wheels on the back of the unit make it simple to move from point A to point B. The wheels don't get caught up easily on small rocks or pebbles, a problem I've had with other pressure washers I've owned in the past. In fact, I was using this pressure washer at my brother-in-law's house, and he has a gravel driveway. While dragging the unit behind me, it seemed to roll over the rocks with ease.
Setup, Unboxing, and What's Included
When you receive the WEN PW31 3100 PSI it will come with the following contents in the box:
Main unit (WEN PW31 3100 PSI Gas Pressure Washer)
Foot base and M8 lock nut
Upper frame assembly
Upper gun hook
Lower gun hook with M6 screw and lock nut
Spray gun
30-foot high-pressure hose
Lance
Five quick-connect nozzle tips

How to assemble the WEN PW31 3100 PSI Gas Pressure Washer
Attach the foot assembly using an M8 lock nut
Install upper frame assembly (handle), and click it into place
Attach the upper gun hook. Remove and use the washers and bolts that come pre-installed on the upper frame assembly
Attach the lower gun hook, using the included M6 lock nut
Attach the high-pressure hose to the bottom of the guns handle
Attach the lance to the tip of the spray gun
Choose one of the included five quick-connect nozzles and attach it to the end of the lance
Connect your water supply hose to the unit. Before you connect it, run water through the hose first to flush out any debris or insects
Price/Where to Buy
You can find the WEN PW31 3100 PSI  Gas Pressure Washer, 208 cc on Amazon for $292.99 with free shipping. This power washer is sold and shipped from Amazon, and will arrive brand new the box. You could choose to go with the 2800 PSI model for $218.14 with free shipping, however for the difference of $74.85 I would suggest getting the 3100 PSI; you'll thank me later. The product also comes with a full two-year warranty.
Here are some other retailers who sell the WEN PW31 3100 PSI as of this writing:
The Home Depot for $295.05 (do note that Home Depot will not ship this item to Alaska, California, Guam, Hawaii, Puerto Rico, U.S. Virgin Islands)
Wal-Mart for $292.99 with a 3-year protection plan for $34.00 and a 4-year protection plan for $45.00
com is selling this for $311.44 with no protection plans available.
First-time use
If this is your first time using this pressure washer, there are a few things you are going to need to know.
Once assembled:
Once you get the WEN PW31 3100 PSI Pressure Washer set up and put together; you will need to;
Replace the engine oil (use four-cycle engine oil)
Fill up the fuel tank
Ensure that the muffler is secure and that there is nothing behind it
If you plan on using the soap nozzle, ensure that you have soap in the onboard soap tank
How Do You Start The WEN PW31 3100 PSI?
Switch the fuel valve to the on position (red lever)
Slide the choke lever to the choke position (orange lever)
Turn the engine switch to the On position
Pull the recoil starter to start the engine
Once the machine is running and it's warmed up, switch the choke lever to the run position
How do you turn off the pressure washer?
Flip the engine switch to the Off position
Switch the fuel valve to the Off position (red lever)
Turn off the water supply, and then squeeze the trigger on the handle to release all of the water pressure
Maintenance
There are a couple of things that the manufacturer recommends you do to help prolong the lifespan of the unit.
Before you start using the pressure washer, you will need to replace the engine oil
After every 8 hours of use, check the engine oil level, as well as the fuel tank level
Every 25 hours you will need to replace the engine oil, and verify that the air cleaner cartridge is still good
Every three months of 50 hours, whichever comes first, you should replace the oil
Every six months or 100 hours, whichever comes first, you will need to check and clean the air cleaner cartridge and check/clean the spark plug
Every year, you should change the spark plug, and clean the fuel tank
Pre-operation Steps:
Before you start the engine you should perform the following pre-operation steps listed below:
Check the engine oil and fuel tank levels.
Make sure the air cleaner cartridge is clean and clear of debris.
Check the high-pressure hose for signs of damage or cracking.
Run the garden hose through the machine to flush out any debris or insects.
Make sure there is no debris around or behind the muffler.
After Each Use:
Shut off the engine and turn off the water supply. Pull the trigger to get rid of pressure still in the high-pressure hose
Disconnect the high-pressure hose, spray gun and nozzle. Make sure to empty any water from the items and then take a clean, dry cloth to wipe down the outside of the hose and spray gun
Empty the remaining water from the pump by pulling the recoil starter six times
Once the unit has cooled down, store it in a dry area
Use a pressure washer pump conditioner. Follow the instructions provided by the manufacturer of the pump conditioner
Precautionary Tips:
Never use old gasoline
Never mix oil with the gasoline
Never use leaded gasoline
Don't leave gasoline in the tank for long periods
Try not to get any dirt or water in the fuel tank
Try not to kink or bend the high-pressure hose
IMPORTANT: Never perform any maintenance operations while the unit is running.
Pros and Cons
Let's a closer look at the WEN PW31 3100 PSI pros and cons:
 Pros
It's a mighty little unit and very easy to use
No power cord to worry about
30-foot high-pressure hose (not the average 25-feet they usually come with)
Comes with five nozzles and has onboard storage slots for each one
It's not as noisy as some other gas-powered pressure washers I've seen
The handle collapses for easy storage
The unit stands solid and doesn't shake around while in use
Big solid 12-inch tires to move through all kinds of different terrains
Great price, with a decent warranty
Cons
There is no way to adjust the PSI
When the unit is running the nozzle heads, tend to bounce around and sometimes bunch out of their holder
There is no automatic choke
Strict maintenance schedule and tedious cleanup after each use
Why is it important to clean the bottom of your boat?
Keeping the bottom of your boat clean is important because a dirty hull can cause many different maintenance problems as well as allow the boat to glide much more smoothly in the water. Washing after each use will help prevent rust and salt corrosion on any metal surfaces. Having a clean boat will also improve fuel efficiency.
Conclusion
If you are looking for a powerful pressure washer to take care of all of your cleaning chores, then the WEN PW31 3100 PSI Gas Pressure Washer, 208 cc will be all that you need. Without a doubt, this pressure washer has been one of the best purchases I have made in a long time.
Although the WEN PW31 3100 PSI Pressure Washer is not perfect (check out the cons section for some of its less-than-desirable features), priced at less than $300 I know that if you gave this a try, you'd fall in love with it as well.