Helpful Tips For Towing a Boat
Every boat owner knows that being able to take your boat everywhere you want is a privilege and a great way to spend your time. However, there are specific rules you have to abide when you want to tow a boat. Some states require special trailer brakes especially if the boat has more than the required threshold (sometimes less than 1500 pounds). Also, most states also recommend you to use safety chains to connect the vehicle and boat. These chains need to be long enough not to restrict your driving and turning, all while being short enough not to hit the ground. You will even need some flares and tie-downs.
What Rules Are There When You Want To Tow a Boat?
Most of the time your vehicle and trailer max length needs to be anywhere from 60-70' depending on the state, sometimes even less than that. Also, there's a minimal weight too, which can vary anywhere from 1500 to 3000 Ibs or even more. And there are certain length and width or height requirements.
That's why it can be a very good idea to study the local towing rules before you start towing your boat. You might end up with problems, in the end, so try to keep that in mind if you want to obtain the best results.
Safety Tips For Towing a Boat
The very first thing you need to do before you start towing a boat down the road is to perform a safety inspection. Here is a checklist of the different parts you'll want to double check.

Check to make sure that your lights are correctly connected and that they are all working.
Check that the hitch is properly in place and that the latch and safety pin is correctly set.
Check to make sure that your brakes safety cable is securely fastened.
When hooking up cables from the trailer to the tow vehicle, you should hook them up in a crisscross under the hitch. The reason for this is because if you do encounter any problems and your hitch fails during transport, the crisscrossed cables under the hitch will act as an extra safety feature holding the hitch in the air, so it doesn't dig into the ground.
Check the winch strap and make sure that is nice and secure.
Check to make sure the safety chain is attached to the boat.
Take a good look inside the boat and make sure there is nothing that can bounce around, or fly out of the back of the boat during transport. Make sure everything is nice and secure in the storage compartments. Any heavy gear should be stored in the center of the boat just above the wheels axis.
Make sure that you can see behind and all around the trailer and boat you are towing from the driver's seat. You may need to install towing mirrors if you towing vehicle does not have sufficient enough view behind. You can not have any blind spots while towing.
Here are some other tips to keep in mind when you are going to tow a boat or trailer.
Make sure that your vehicle is going to be able to tow what it is you are hauling. And make sure to follow the proper weight restrictions set by the tow vehicles manufacturer.
It is also important to make sure that your trailer and tow vehicle are leveled. You might need to use a weight distribution system if you find that there is too much sag in the middle of the trailer and tow vehicle.
When you are towing a boat, it's important to give yourself enough braking distance between you and the vehicle in front of you.
While towing a boat, and turning a corner, make sure to take the corners wide enough, so the boat clears safely.
Do You Need a License To Tow a Boat?
Usually towing a boat doesn't require a license. You do need to be within the towing requirements of your particular state, however, so that's something that you want to take into consideration. However, if you stick within those requirements, you will be more than ok. You can find those requirements here!
If you want to tow a boat like a professional transporter and you do that for a living, then you will need a license for that. The same thing happens if you tow a very large boat around. A regular boat that you can use for boating with friends and family is not going to be an issue. Towing huge, oversized boats is going to be a challenge, and that's why you will need a license for those. But most of the time a license will not be necessary.
Can You Tow a Boat Behind a Trailer?
Yes, you can tow a boat behind a trailer or vice-versa, however you want to make sure that you have the right equipment to do that. Usually, this process requires you to purchase some very special hitches. These are designed to connect your boat trailer to the regular trailer. It's important to understand the type of trailer that you want to connect your boat trailer too. Otherwise, there are bound to be some connectivity problems, so try to avoid that as much as possible. And it will undoubtedly be worth it, that's for sure.
Also, you want to check with the local authorities and see if there are any particular towing limits or weight limits. You will require quite a powerful vehicle for towing a boat behind a trailer. So you do need to ensure that your vehicle has the power necessary to tackle this type of task. It also needs to be approved to haul this kind of stuff on the road. And your trailers also need to have safety features and some way to notify you in case there are issues. Even if this is possible, it's super risky, and that's a critical aspect to consider when you handle such a situation.
Which States Allow Double Towing?
I was surprised to see so many different states would allow you to tow two trailers at the same time. Below is a list of the states that I was able to find.
Alaska
Arizona
Arkansas
Colorado
Idaho
Illinois
Indiana
Iowa
Kansas
Kentucky
Louisiana
Maryland
Michigan
Minnesota
Mississippi
Missouri
Montana
Nebraska
Nevada
New Mexico
North Dakota
Ohio
Oklahoma
South Dakota
Tennessee
Texas
Utah
How Do You Adjust An Equalizer Hitch?
The equalizer hitch will help you ensure that your boat trailer is attached adequately to the remainder of your vehicle. What you want to do at first is to check if the coupler and the ball height are correct, to be safe. In case there are issues, adjust the shank or hitch head so you can get the best height. You might require a specialty shank for that. Once it's all good, you have to check the distribution setup and make corrections if it's under or over-distributed, to be safe.
Now you have to make sure that you take uncoupled and then coupled measurements (without any weight distribution). This way you can make sure that the equalizer hitch works adequately. Now you want to take some measurements coupled with weight distribution. You need to take these measurements if you're going to adjust everything correctly, and that will help pay off a lot if you do it right.
After you finish these steps, you will have to tighten everything and perform a few tests at different speeds. The last thing you want is for your equalizer hitch to break or not sustain the entire weight of your trailer, so these tests are very important.
What Does The Equalizer Hitch Weigh?
That mostly depends on what unit you purchase. But you can rest assured that this is a pretty heavy tool. Most of the time it will be around 100-110 lbs or something along those lines. Some of these equalizer hitches are easy to assemble, others require a lot of work and commitment to put everything together. But it will work very well, and you can easily adjust and adapt everything the way you want to. Since everything comes as separate parts, you will have multiple parts that add up to that weight.
Is It Possible To Use The Equalizer Hitch With Surge Brakes?
Yes, you can use an equalizer hitch with surge brakes. It's compatible with the surge brakes, and it does have a set of rigid frame brackets. What this means is that the spring arms can easily slide back and forth with great ease. This will allow the surge break mechanism to work at its full capacity.
Do You Need Towing Mirrors For a Trailer?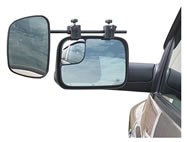 Most people don't understand the need for tow mirrors, but the law states that you must have a clear field of vision around and behind the item that you are towing, without any blind spots. Without using towing mirrors that are mounted to your vehicle, you probably won't be able to see correctly behind you.
Correctly mounted towing mirrors should give you a complete rearward vision at all times. You should be able to see everything happening around and behind what you are towing.
Don't forget to remove the towing mirrors when you are not towing, as it is illegal to be driving with them if you don't need them.
Conclusion
It is possible to tow a boat in the US, but there are some rules specific to every state. It's a good idea to read the towing rules of that state if you want to avoid any problems. It can definitely be a challenging process, but it's also one that can bring in front rewarding results. All you have to do is to give this a shot, and the results are definitely among some of the best out there. Use these great ideas and don't hesitate to contact us for more information about towing a boat in the US!