Everything You Should Know About Boating With a Dog
If you love boating and you're a dog lover, then you might want to learn how to go boating with a dog. It's a fun, great way to spend your time with your beloved pet. My son has been asking for a puppy for about 2 years now, and this Christmas we are going to get him one. We obviously don't want the dog to get in the way of our family trips this summer, so it had me wondering, how do other people go boating with a dog.  The amount of information I found online was very helpful. Here are some of the things that you need to keep in mind when you go boating with a pet!
Can Dogs Go On Boats?
Yes, absolutely dogs love going on boats. Before taking your dog onto a boat you should make sure he or she can swim first. Most dogs can instinctively swim, but not all can. It's better to find out if they can swim or not before taking them out too deep. Once you are convinced that the dog is comfortable with the water and they can swim, you can start introducing them to the boat.
How To Get a Dog On a Boat?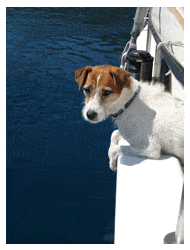 The first thing you want to do is to bring your dog out on the boat while the boat is docked. So you have to do this at least a day or two in advance. The idea is to get your pet accustomed with the boat before you hop on a trip on the seas. The next time you visit your docked boat with your dog, turn on the motor so that he or she can get accustomed to the sound. You can then go on a short boat ride and continue with longer rides.
You first have to start with visits on the docked boat. It will inspire confidence to your pet, and it's the best way to make them comfortable. You can also train your dog to be safe on the boat, teach him commands and so on. Your dog needs to know basic commands like Sit, Stay or On Boat and Off Boat, depending on the situation. But Sit and Stay are pivotal, because you want to keep him safe and away from any dangers.
If your dog is not that enticed with the idea of coming on your boat, then you can use some treats or raw food to lure them onto the boat. Make the environment as comfortable as possible for your pet and then use the ideas above to get the best results.
Do Dogs Have To Wear Life Jackets On Boats?
No rule says a dog has to wear a life jacket. They are however a recommendation while boating, or while your dog is exposed to open or rough water.
Life jackets for dogs are starting to gain a bunch of popularity amongst boaters. Having a life jacket on your dog will serve two purposes, the first is that it will give them extra buoyancy as they tread water, as well as make the dog easier to see in the water.
There are many different brands and styles of life jackets for a pet to choose from. One that I have my eye on buying is the Outward Hound Granby Dog Life Jacket on Amazon. It's very reasonably priced at just $14.99 (as of the time writing this. Click here for the current price), and it has a bunch of great reviews from other dog owners. I also like how the life jacket has straps on the top so I can lift the dog out of the water, and put him back on the boat.
The U.S. Coast Guard does not regulate life jackets for pets as they do for humans, so be sure to have your pet fitted properly for a life jacket that fits them correctly. It is also recommended that you do not leave your pet unattended while they are swimming around in the water, even if they do have a life jacket on.
Purchase The Right Safety Equipment For Your Dog
Since you need to prepare your dog for a long trip, you need the best gear you can get. Usually, the first thing you purchase is a doggie life vest, as discussed above. You can find this at most pet stores or on Amazon, and it's a very important safety piece to have around. A dog harness will also help you avoid situations when your dog goes overboard by mistake. It's a great way to keep an eye on your pet while preventing any potential accidents!
Speaking of safety, you also want to buy a first aid kit for pets in case you don't have one. You also want to go to the vet to include ID and tracking information via an ID microchip. Your vet might even give you some seasick medication.
Also, if you go on fishing trips, you want to keep lures or anything that might cause harm to your dog in an enclosed container. This way you can avoid any possible problems as you go boating with a dog.
Can a Dog Get Seasick?
Just about all pets can deal with seasickness. That's why it's a very good idea to have proper seasickness medication nearby. Dogs tend to get motion sickness when the inner ear is jangled. When that happens, your pet will encounter dizziness and nausea. This does tend to happen more often than not with dogs and boats.
One thing to consider here is that motion sickness is very common in puppies. Older dogs, especially those driven via a car don't have motion sickness that often. Some might have it, but usually, they don't get seasick. That's why the best thing you can do is to introduce your pet to the sea travels gradually. As you do that, you will notice if your pet gets seasick or not pretty quickly.
The last thing you want is to have your pet associate the boat with a sense of discomfort. That's why you need to use seasickness solutions. Make sure that you have enough water on board and the right ways to feed your dog too. Some dogs end up drinking saltwater, and that only makes them thirstier, which does encourage the appearance of motion sickness, to begin with.
Where Do Dogs Go To The Bathroom On a Boat?
You should create a dedicated space where your dog needs to go to the restroom. Purchasing some dedicated pads or an artificial grass mat, where your pet can learn to go to the toilet can help you quite a lot. Teaching your pet to do go to the bathroom beforehand will be an advantage, as you have to adapt him to the new location. It just makes things a whole lot easier.
You need to take your dog on the boat at least a few times so he can learn where to use the restroom in there. This way he can get accustomed to the entire process and then it will be easier for him to understand what he has to do and where he has to do that.
Even if your dog knows where to go to the restroom, you still need to have some equipment with you to be safe. Doggie waste bags, an odor neutralizer, and paper towels are essential, and you should have them on your boat to be safe.
How Do You Train Your Dog To Use Artificial Grass?
The way you do this is not that complicated. It does involve some challenging steps, but it can work pretty well. You need to place the artificial grass at first, and then you need to put your dog on a leash, then bring him to the boat and put him on that artificial grass. It's important to walk him over the fake grass every 30 minutes. At some point, he will have to go to the potty and thus you will be able to use the artificial turf.
You can use a crate to keep your dog nearby and prepare him to go to the potty. When he needs to do his business, guide him towards the artificial grass using your leash. Offer him lots of praise once he goes to the potty and takes the leash off. This way your dog will associate going to the potty on artificial grass with freedom, and he will enjoy this process a lot. It's a very good idea when you train your dog to go to the potty, and it actively works a lot better than you might imagine. Repeating the process can work amazingly well, so try it out again and again.
Should You Use Sunscreen On Your Dog?
Most people use sunscreen to protect their bodies against UV rays. But the reality is that sunscreen can also be applied to dogs. The last thing you want is to have your pet deal with a major sunburn. It's a very good idea to give sunscreen a shot, as it can do wonders for your pet. It will relieve any potential burns, and the best part is that it protects your pet from any other sunburn issues that can appear.
Some dogs will like sunscreen more than others. It's a natural reaction; some people dislike sunscreen so you will surely find some dogs that hate it too. But for the most part, your dog will like it. That means it's a good idea to take sunscreen with you when you're boating with a dog.
Keep An Eye On Your Dog At All Times
It's safe to say that boating with a dog requires a lot of commitment. You are responsible for your pet's life and wellbeing. And that means you have to take it very seriously. The best thing that you can do in such a situation is to see when your pet isn't feeling well and offer him medication. And yes, you also need to make sure that he doesn't go overboard by mistake. Yes, it can be time-consuming to check on your pet every 5 minutes or less, but then again it also gives you a great sense of satisfaction.
We encourage you to go boating with a dog if you get the opportunity. It's fun, and it also gives you a sense of responsibility. However, you do need to take this very seriously. Pets are known for having sea sickness at times, so you do need quite a lot of tests and preparations to ensure your pet is ready to go on a boating trip. Talking with your vet is a priority here, so you do want to be certain that your dog is healthy at all times no matter what happens. Give it a shot and you will be very impressed with the results. One thing is certain, if you take the right precautions you will notice that boating with a dog can be very fun!