5 Ways to Heat Your Boat That You Might Not Have Thought Of
With summer nearly over it's hard even to think that we'll soon be taking our boats off the water and preparing them for winterization time. But before we do that there's still a little time to head out and enjoy some more time out on the water.
If this post is too long with lots of custom solutions, just know that I really think the best option is a simple Mr. Heater on Amazon. It puts off a ton of heat and is a safe choice.
The problem with this time of year is that it can get quite chilly while out on the water. Just like how you always plan where you will be boating for the day, you should also prepare for cold weather. There's nothing cozier than being onboard during a cold autumn night with the heater going.
In this article, I'll outline some alternative and unique ways of heating your boat cabin. With September now upon us the cooler days and nights have already begun to roll in, try these heat sources now to help stay warm. If you find that they are working, you can use these methods all autumn long.
#1. Insulation
One of the first ways that you can go about making your cabin warmer is by adding extra layers of insulation. Adding insulation is often a job that you can do yourself or have a professional do the work for you. Either way, it will be a little time-consuming and something that you'll have to keep an eye on over the years.
If you do end up adding extra insulation or even re-insulating the cabin, there are two areas that most people neglect to focus on; windows, and cabinets.
Windows
When it comes to the windows, you can buy some reflective insulation that helps trap the heat inside the boat. A roll of silvery metallic material will cost between $40 to $70. Look for an R-value rating on the material before you buy. Generally, the R-value will range from R-3.7 through R-21. The higher the R-value, the better for trapping in the heat.
To insulate, you want to make sure to cover the entire window by reflective insulation. Cut it out to fit your windows. It might not look visually appealing, but it will help keep you warmer.
Cabinets
Cabinets often get overlooked when it comes to insulation, and once insulated they can help keep some of the cold temperatures out. The part of the cabinet that you want to insulate is the back to cover the exterior wall.
When looking for some foam, you want to make sure that you are only using a closed-cell foam that does not absorb water or moisture. Similar to the same foam that yoga mats are made out of.
A large 60″ x 16″ x 1/2″ roll of Marine Roll Neoprene Rubber will cost just under $25 on Amazon. Two or three rolls might be enough depending on how big your cabin is and how much cabinet space you have. Take a tape measure or a ruler and get approximate square footage first.
Installation is a breeze. The first thing you will need to do is remove everything from the cabinet so that you can take measurements of the exterior wall. Next, mark on the neoprene rubber the dimensions, and use an Exacto knife to cut out the piece (be careful not to cut yourself). Remove the adhesive backing and then slowly stick the rubber inside the cabinets over the exterior wall. Start at the top two corners and work your way down.
If you have to place two pieces of the neoprene rubber side by side, use an HVAC foil tape on them seems to fuse the two pieces and help improve the thermal performance.
#2. Hydronic Heaters
A hydronic heating system works in the same way that a household water heating system would work: hot water gets circulated through hoses and pumps found throughout your boat that go to small radiators or heat exchangers in the areas that you want to be heated. The heat that comes from the water that gets passed through the radiator is sent through the air by small fans.
Hydronic heating units typically get installed within the engine room, and depending on the type of model you have; it can run off the boat's main fuel tank or from a separate dedicated tank. The boat's engine does not have to be running at the same time while the heater is in use.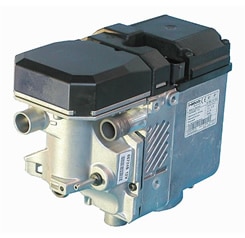 A hydronic heating system uses electricity to power the fans, coolant pump, and fuel-metering pump. Generally, most of the electricity consumed is within the first 30 to 45 minutes or until the desired inside temperature has been reached. Once the temperatures are reached, the system does not draw as much power to maintain that temperature throughout.
One of the big advantages of using a hydronic heating system is that you will have an even amount of heat throughout the boat and you won't be creating access moisture in the air because the system exhausts to the outside.
The cost of a hydronic heater can vary depending on which make and model you choose as well as how big your boat is and how much space needs to be heated. You can purchase a complete heating kit which will come with everything you need, such as;
Heating equipment
Mounting equipment
Electrical equipment
Intake and exhaust equipment
Fuel equipment
Water system equipment
Fan heater equipment
For example, to purchase one of the cheaper hydronic heating kits that will heat up to a 38-foot sailboat or a 34-foot powerboat, you will be looking at $4,300 from Sure Marine Service.
#3. Electric Heaters
An electric heater for your boat is similar to a space heater that you probably already have in your home. They are meant to heat small rooms or portions of a room, so if you place an electric heater in the cabin of your boat, you should be able to heat the entire space quite nicely.
Electric heaters are often portable devices which is what makes them more convenient to take on the boat. With any portable electric heater, you do need to be aware of the potential fire risks involved in leaving a unit on during the night or while nobody is around to keep an eye on it. A few big waves and the heater could tip over.
That is why it is important to use an electric heater that has an automatic shutoff feature if the unit does get tipped over. With a hidden switch located at the bottom, that will shut the heater off if it gets lifted.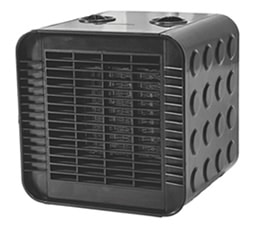 A popular choice for boat owners is an XTreme heater that you can get on Amazon. This compact heater is lightweight and can be tucked under a table or sat on a shelf or tabletop. It's also equipped with the automatic shut-off switch to give you peace of mind while the heater is running.
With a built-in adjustable thermostat, the Xtreme heater can maintain a perfect temperature throughout the cabin. The heater doesn't make a lot of noise so it won't interrupt your sleep too much if you left it going throughout the night.
#4. Propane Heaters
Propane is one of the more cost-effective solutions for heating your boat. It produces many more units of energy than the other fuel sources available. Not to mention propane is also an efficient-burning fuel source.
One of the biggest problems with having a propane heater onboard is that they may shut off if you are operating them over altitudes of 7,000 FT above sea level.
There are two types of propane heaters that you can use on your boat. Both can help heat the spaces that they are in, and both come with auto-shutoff features for safety.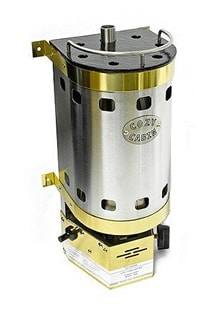 Wall-Mounted Propane Heaters
A wall-mounted propane heater will work similarly to your fireplace at home. The heater gets mounted to the bulkhead in the main cabin area and an exhaust pipe connected to vent outside. Just like a fireplace, these little units can put out a great amount of heat throughout the cabin and keep you toasty warm during even the coldest winter nights.
The Dickinson Cozy Cabin Propane Heater is a popular choice for sailors who are on the go, and those who live-aboard their boat year-round. The Cozy Cabin is small enough not to take up very much space, and it can put out a lot of heat. It also doesn't use much propane while operating, making it a cheaper energy-efficient heating option.
Because the unit is mounted to the bulkhead, it eliminates the chances of it tipping over and possibly starting a fire. Most propane heaters built today have a built-in oxygen-depletion device that shuts off both the flame and gas flow if the oxygen level in the cabin ever drops too low. Another great feature to look for in a propane heater like this one is that it comes with a thermocouple that automatically shuts-off if the flame goes out.
If you are looking to purchase the Cozy Cabin Propane Heater, you can purchase one new or used from Amazon starting at $542.99 (click here for current price) including free shipping.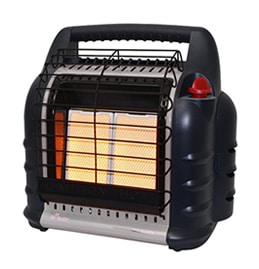 Portable Propane Heaters
From a cost perspective, a portable propane heater is a much cheaper option. A big advantage to using a portable heater is that it can be moved to different locations throughout the boat, as well as removed from the boat altogether to use in a camper or at your home.
Mr. Heater is a safe portable propane heater that will automatic shut-off if the unit tips over, the pilot lights go out, or it detects low oxygen levels in the air. This particular heater operates at nearly 100-percent efficiency, making this unit a nice clean-burning option.
Just like a wall-mounted propane heater, it doesn't cost as much to operate as some of the other heating solutions, which will help you save money much quicker over the long run.
Mr. Heater is available on Amazon for $130 (click here for current price).
#5. Reverse-cycle Air Conditioner
It might come to a surprise to you as well,  but you could use your air conditioner to heat the cabin. A lot of marine air conditioning units have a reverse-cycle mode built-in, which will change the direction of refrigerant flow and turn the unit into a heat pump.
In fact, if your air conditioner has this feature you should be turning it on now and then even if it's scorching hot outside. By not using this feature, you run the chance of the reverse valve sticking.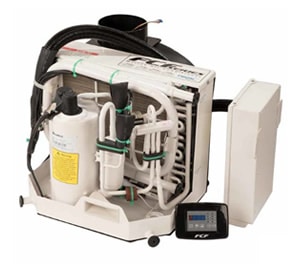 The way a reverse-cycle air conditioner heats the cabin is quite interesting. The compressor pumps hot refrigerant into the air handler, and takes the cool air from within the cabin and moves it over the coils. The refrigerant then takes heat from the seawater and carries it through the compressor which then releases heat into the boat's cabin.
This method of heating only works if the seawater temperature is around 40 degrees Fahrenheit or warmer. 
The Webasto FCF Series Air Conditioner is a popular choice because of its size, power usage, performance, and overall quietness. The cost of the unit itself is just below $2,100. If you already have an excising air conditioning unit onboard, you shouldn't have to do too much to switch over to the FCF Series. Otherwise, to have everything installed, you could be looking at an extra $400 to $650 depending on who you get to install it. 
Recommended
Will My Boat Engine Freeze – Everything I Have Learned