16 Boating Essentials for Kids – Safety and Fun
Safety Items:
Before we jump into the fun items you should bring aboard with you and the children, we should cover some of the crucially important essential items that you shouldn't forget.
#1. Life Jacket

Making sure your little one is wearing a properly fitting life jacket is one of the most important essential items you need to bring with you. If the life jacket does not fit properly, then the child could slide right out of it rendering it useless.
My son weighs 45 pounds, and for the past year and a half, he's been using the Hardcore Water Sports Life Jacket from Amazon. The reason I choose this vest for him was that it's both USCG approved, as well as US Coast Guard approved. And for just under $16.00 the price was right. This life jacket has been working out great so far, that as I sit writing this article I just put in an order for the next size up (50-90 pound) life jacket.
#2. Sunscreen

Sunscreen is essential and should be applied several times per day, while out on the water. This goes for adults well. But for children, according to the American Academy of Dermatology, infants who are under the age of six months should not be in direct sunlight. Children six months or older, it is recommended they use a water-resistant, broad-spectrum sunscreen with at least a 30 SPF.
I personally keep 6 (yep, six) cans of spray sunscreen for kids in my boat at all times. We had a few times where we ran out of sunscreen on the water and everyone got burned, so now we stay stocked up. This is the one I like (on Amazon) because the kids can put it on themselves and it is quick to apply.
#3. Motion Sickness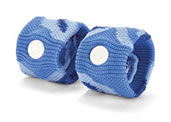 One thing you want to be prepared for is motion sickness. For one reason or another, smaller children seem to be more prone to motion sickness than adults are. We usually keep an emergency first aid kit on our boat all season long which has Dramamine for kids. We got lucky last year with our son because he only had a small handful of times where he was complaining about being sick.
One product I ended up buying this winter to try is called Sea-Band Child Wristband Natural Nausea Relief on Amazon. It was sitting in my shopping cart for a few months and figured I would give it a try this summer. For under $6 it was a very reasonable purchase.
#4. Sun Hat
Keeping your child sheltered from the sun all day is not an easy task while you are out on the water with very few shady spots. And keeping your child in a shady spot is nearly impossible when all they want to do is keep busy and get into things. For this reason, it is recommended that children wear a sun hat with a UPF 50 rating.
My son wears a safari-style hat that has a round brim and also a long protective cloth that covers the entire back of his head and neck. Amazon has a nice selection of sun hats. The hat I bought for my son is great, and has saved a few sunburns.
#5. Snacks and Drinks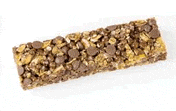 Don't forget to pack any non-perishable snacks and drinks for the kids. Chips, crackers, nuts, granola bars, marshmallows, pretzels, dried fruit, and the list goes on. Basically, anything that you think your child will eat that won't go bad if not kept cold and out of the sun. Keep the snack handy and available for them to eat while they are playing.
Keep a lot of drinks on hand as well. Make sure the children are staying hydrated and drinking plenty of water. That goes for the adults as well.
* For more safety information about kids, visit our article 15 Tips for Safe Boating With Kids.
Fun Items:
Now with the safety items packed and ready to bring with you, it's time to look at a list of some fun items that will be sure to keep your little ones entertained out on the boat.
#6. Fishing Rod
One of my favorite purchases I made for my son has been his Plusinno Fishing Pole. It's an excellent way for the two of us to sit and bond while enjoying the boat. It comes with everything he needs such as; fishing pole, spin cast reel, and string, fishing tackle full of different fishing accessories as well as a little travel bag so he can feel as big as daddy walking down the dock towards the boat carrying his own fishing gear.
As of the time I am writing this, the Plusinno Fishing Pole is advertised on Amazon for $33.99. If you fish, or you would like to teach your little one how to fish then I would highly recommend this product. It's been nothing but great for us.
 

#7. Coloring Books
Colouring books are a great way to pass 30 to 60 minutes depending on your child. My wife usually picks up a bunch of different coloring books from our local dollar store or Walmart. Amazon has some good coloring books to choose from as well, but because they will get wet and ruined much more easily, we buy the cheap ones. But with that said, I did buy Boating In The Sea! from Amazon to keep at home.
We use to bring crayons, but after they've been sitting out in the sun all day, my son would tend to make a bit of a mess with them. Because of that reason, we pack a pencil case with a bunch of different color pencil crayons.
#8. Bring Some Binoculars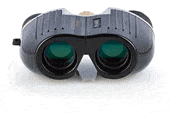 A very way to entertain the kids is with a pair of binoculars. There are so many different things that you can do using them. For example, a fun game that my wife likes to play with our son is I, Spy. They each use a pair of binoculars and look around for different objects for the other one to find. It keeps them occupied for a very long time. My son also likes to use the binoculars and help me navigate where we are going to go next. While we are heading in that direction, it's also his job to make sure there are no pirates up ahead.
Amazon has the same set of Binoculars for super cheap and they get great reviews. I bought some myself and was surprised that they're pretty good for that price.
#9. Bring Some Movies
A nice way to calm your kids down and keep them seated in a shady spot for an hour or two is by putting a movie on for them to watch. I don't know about you, but I don't want to bring my $500 iPad out on the boat where it could either get lost, stolen or broke. For that reason, I bought a cheap 10.5″ portable DVD player. It not only comes in handy on the boat but in the car on those long road trips to and from the lake.  Click here to see the current price on Amazon.
#10.  Rubber Mat
Okay, this one is a bit more expensive, but my kids have had more fun on a floating mat than anything else. We took one with us on our last boating trip to Lake Powell and the kids played on it all. day. long! They played sumo on it by pushing each other off, ran around, etc.
It's expensive, but you can get a really good price on Amazon. This is the one I recommend.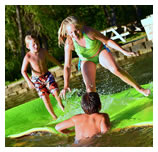 #11. Board Games and Card Games
Taking some board games or card games along with you is a perfect way to get the kids to sit down together and entertain themselves for a little while. This is something we tend to take with us when my son's friend is joining us, or if we are entertaining cousins. Games like Battle Ship, Connect Four, Uno, Guess Who, and Go Fish are great because if the boat is rocking around a little, it's not going to knock their pieces around.
Amazon has a vast selection of board games for kids with prices that are comparable to Walmart. I'm sure you'll find something that your kids will love. Not only do board games work great on the boat, but they also come in handy when we go camping for the night.
#12. Inner Tube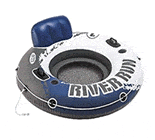 This is a great activity for both kids and adults. Last summer I tried inner tubing for the first time, and I have to tell you, it's one of the most fun activities I have done in a long time. My wife jokes with me that I might have been having more fun than the kids. This is a fun way to pass a few hours, and it's much easier for smaller children to do as opposed to wakeboarding or water skiing.
On Amazon, you can buy a single inner tube for $17.96. There are cheaper ones you can buy as well, however, this one that I recommend is the same one that we are using. It's been working out perfectly for us.
#13. Bring Some Books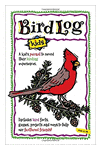 Packing a couple of books to read is an excellent way to keep the kids quiet for a short period, as well as keep them out of the sun if you have a canopy or umbrella for shade. The type of books you bring will depend on your Child's preference and what they are interested in. For example, my wife bought a book on birds for my son that they'll be using this coming season to go along with their binoculars. Be careful not to bring books from the library because they will get wet.
#14. Play Make Believe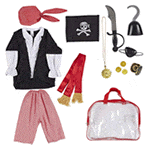 For my son's sixth birthday, he wanted to have a pirate-themed party, and everyone who attended got a pirate costume to wear. Now every time we go out on the boat, my son takes with him the hat, eye patch, and sword to pretend he's a pirate. Taking a long with you some unique costumes like a pirate outfit, or a captain's outfit, is a fun way for the kids to play make-believe while having a good time.
I bought six, 13-piece pirate costumes from Amazon for cheap.
#15. Handheld Video Games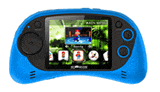 An inexpensive way to entertain boys is by giving them a handheld video game to play with. My son has a little 2.7-inch display handheld gaming system that we keep in our vehicle. He's taken it on the boat with him a few times, and it's helped pass some time for him. The one we got from Amazon was under $35. It comes with 120 games built-in. My son is six, and I would say that some of the games are a little over his head, but there are a good 20 games that he seems to bounce between playing. As he gets older I'm sure he'll begin playing the other games more.
#16. Tablet For Kids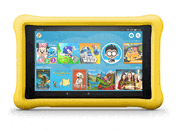 These days technology is everywhere, and kids love to have that technology at their fingertips. In our house, we like to limit the amount of "screen time" our son gets. But when he's allowed, he enjoys playing games on his tablet or watching other kids playing games on Youtube. For Christmas, we got him a tablet that will enable us to limit his usage. It also comes with protection from Amazon which means if he ends up breaking the tablet within 2-years, Amazon will send him a new one for free.
If you are thinking about buying a tablet for the kids, I would recommend taking a look at the Fire HD 8 Kids Edition Tablet from Amazon.
Recommended
15 tips for safe boating with kids
Complete boating essentials list – Do you carry these items?